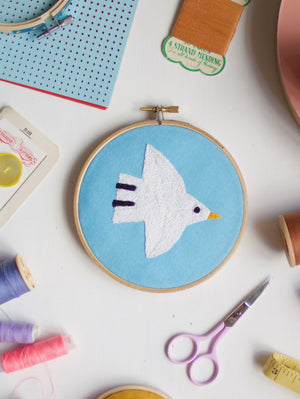 White Bird Embroidery Hoop Kit
This kit comes with 100% cotton, a 13cm hoop, DMC thread, a needle, instructions, wadding and a backing disc making it really easy to turn you embroidery into something ready to hang in seconds.
The kit uses a split back stitch to fill the blocks of colour in. It's a really simple stitch, but because there is quite a lot of work involved in filling the different areas of colour, we're saying this is probably for a confident beginner, rather than someone who is just starting out in embroidery.
This kit has been designed using an illustration by Ekaterina Trukhan. Ekaterina is a Russian illustrator who graduated from Camberwell College of Arts with a BA degree in Illustration. She creates illustrations for children's books, magazines and products and is also the author of several children's books published in the UK, USA, Russia and Slovakia.